***WARNING: This post contains links that will lead to EdenFantasys ADULT online store. Please do not click the links if your children (or anyone else that you may feel uncomfortable around) are around if adult toys show up on your screen***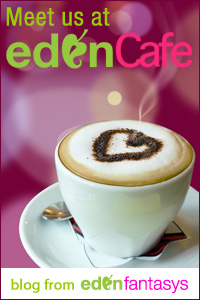 I simply love sales! Especially clearance sales! I consider myself a savvy shopper so I am always looking for a bargain. Well, EdenFantasys has a huge summer clearance sale going on right now! There are over 1000 items that are 30% to 70% off. I'm betting there is something for everyone with this huge sale. Plus, the more you buy, the more you save! Depending on the amount you spend, you could get up to 30% off of your entire order.
My last purchase from EdenFantasys included one of my favorite body products ever, the Cake Supreme Body Mousse in "Desserted Island" (vanilla/coconut)! I absolutely LOVE this stuff. It smells like a Hawaiian mixed drink or something similar and smells even better on!I think it is more of a lotion then a Mousse since it isn't really that thick, but you only need a small amount and it blends really nice! I also bought the

"It's a Slice" (Orange/Vanilla) and wasn't a huge fan of this one. I was thinking it would smell exactly like a

creamsicles

, but it had more of a strong vanilla scent with an after scent of almost like a cardboard smell. So I will definitely be buying more of the

"Desserted Island" but not the

"It's a Slice". I'm hoping they come out with more scents since Cake products are my new favs! I use their hand cream, lip gloss, and now body lotions and love them all! I'm hoping for some shampoo and conditioner!
Have you tried any of the Cake products? If so, what are your favorites?
Disclosure

: I received a gift card from EdenFantasys, and online sex toys adult shop in exchange for an honest review. No monetary compensation was received. This is my completely honest opinion above and may differ from yours.