I've come to love make up. I've never really worn it, but since I've had children, I feel like I need something to help me with my worn down, tired look! Normally I don't wear eye shadow, but every once in a blue, we go out to dinner and I like to look nice. So eye shadow adds a little more to my natural look. Recently I got the chance to try some daring colors that I normally wouldn't wear from Rose Powell who is a Mark Independent Beauty Consultant!
Mark is a part of Avon that was created to connect, engage, and empower young women. It is Mark's job to encourage women to express their individual style and realize their infinite possibilities. Mark offers a large collection of beauty products to complete your specific look at an affordable price! You can also make money by selling Mark! You receive a great discount for life, with no quotas, no hassles, no hidden fees! With just $20 you get a free eboutique, 100 free business cards, and a starter kit with a value of over $100, plus the support of your mark mentor. Join here: http://meetmark.com/join, enter Referral Code 9707257 and score a free gift from Rose! Also, if you are making a purchase, use the code "

WELCOME

" at check out to receive free shipping! And, if you make a purchase during this giveaway, Rose will also throw in a

FREE GIFT

!!!
Rose sent me the Mark "Get It All Deal" which included I-Mark Metallics Custom Pick Eye Shadow in Jazzy and Lava,

Good glowing Custom Pick Powder Blush in Cameo Glo, Snap To It Custom Color Palette in size MID to put the shadows and blush in, and Nailed IT Trend Mini Nail Lacquers in steel plum and industrial. Now, like I had mentioned above, none of these are colors I would think would work for me, but I am always open to trying new things, colors being one of them.
As soon as I received the package (which was beautifully wrapped in tissue paper along with an adorable thank you card), I started trying on the make up. Normally for blushes I wear pink hues, but the Cameo Glo had more of a peachy tan hue and I actually like it more then the pink I wear. It was a nice change for the upcoming fall season and matches my complexion a lot better! The

Custom Pick Eye Shadows are definitely colors that can create the new popular smokey eye! Now, I am not the best with applying eye shadow properly, so I am still working on making the Lava look really good, but the Jazzy has been my new fav. It makes the green in my eyes come out which I love.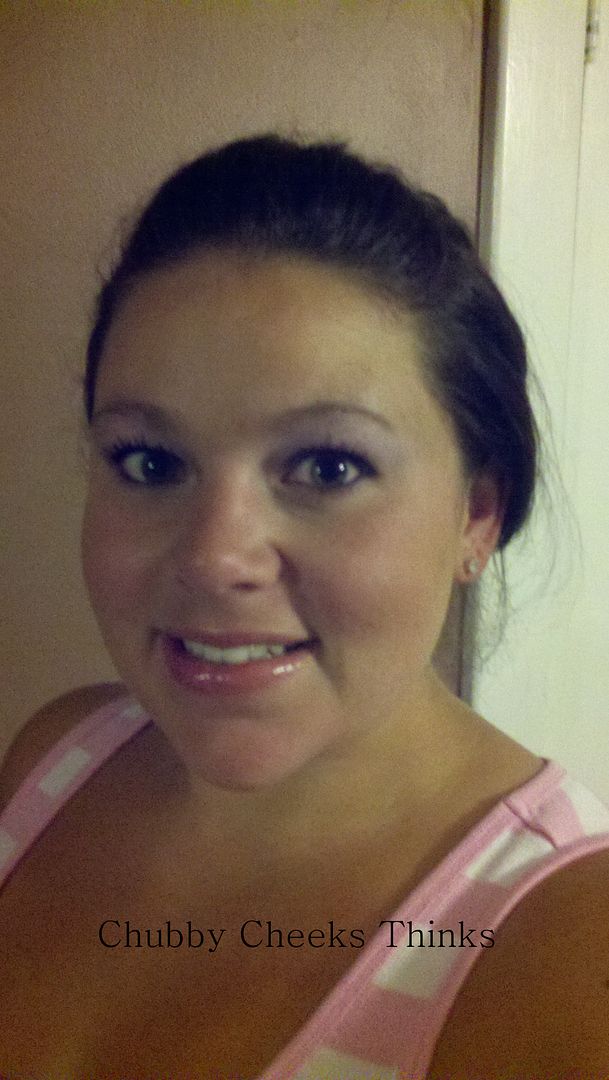 The compact that they all fit into is so sleek and compact. It can fit into your pocket if you need it too. I have another compact from a popular brand and it is definitely way bulkier. I like how small the Mark one is. And my favorite part of the set are the polishes.
Steel Plum and Industrial are great colors and match so well. I painted my nails with the steel plum and my toes with the industrial and I think the next time I paint them, I am going to do a design to incorporate both of the colors!
I know that the picture is a little dark, but if you look at the picture on my sidebar, you can tell that there is a HUGE difference! I have the Jazzy all over my lid and then just lined my lash line with the Lava shadow and then I have the blush on. I love all of the colors and think it looks subtle enough to wear during the day but elegant enough to wear for going out!
I think the best part about this kit is that it is only $28 (

$35.50
value)! That is super affordable! And right now, one lucky winner has the chance to win the "Get It All Deal"! Just wait for the form to load and enter away!
Disclosure

: I received the product mentioned above compliments of the company or PR Rep. This is my completely honest opinion above and may differ from yours. Because I do not directly ship most giveaways from my home, I cannot be held liable for lost or not received products. This giveaway will end on September 27, 2011 at 11:59 pm EST. Random.org will select the winner. I will contact you by email (please post with comments if it is not on your profile). You will have 48 hours to respond before a new winner is picked.Good luck!