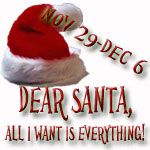 Welcome to the "Dear Santa, All I Want is Everything" event hosted by
Chubby Cheeks Thinks
,
The Coupon Challenge
and
Two Monkeys & a Washtub
! Over the next week, we will be bringing you products that will give you gift ideas for everyone in the family! You will easily be able to find all of the giveaways from our three blogs on each of our sidebars! This way it is easy for you to see what the other 2 blogs have going on! If you have our event button on your sidebar, you can receive extra 10 Entries into ALL of our giveaways! We hope you have fun! :-) Feel Free to grab the button below for your sidebar to get an extra 10 entries into any and all of our Dear Santa Giveaways!