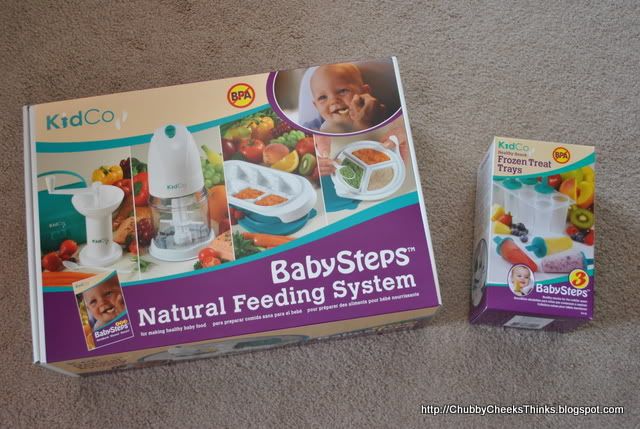 (

I had posted this review the other day and then Carole from Kidco contacted me today and said she would love to host a giveaway as well! So I wanted to repost this again when I added the giveaway!

)
I tried making my own baby food with when Riley started solids but I could never find anything that worked well and was quick and easy enough to keep me motivate. So I gave up. :( I wound up spending a lot of money on jarred baby food. While it was easy and convenient it cost way to much. So I decided when Emma starts solids I am going to try my hardest to make ALL of her baby food which will save me lots of money!
I have been researching food mills and food processors and all other kinds of contraptions to find something that will work best to keep me motivated! I came across Kidco's Complete Natural Feeding Kit and found that it not only had great reviews, but also came with everything that I would need right down to the storage container!
The Company: "KidCo was incorporated in the fall of 1992 to specialize in the marketing, distribution and manufacturing of upscale consumer goods. KidCo products are targeted to retail outlets, including mail order catalogs and internet shops specializing in the juvenile, pet and fireplace industries.
The foundation of KidCo's product offering is a complete line of child, pet and hearth safety gates, designed and engineered in Denmark. The Gateway®, KidCo's first model was a completely new concept in pressure mounted, walk-through gate design. Since its inception, three additional pressure-mount gates and seven walk-through, wall mounted gates have been added to the line; including the ConfigureGate™, a "build your own gate system" for almost any application that does not have mounting points in a straight line. All KidCo gates pass not only the ASTM safety standards but also the much more stringent European requirements.
KidCo offers a comprehensive assortment of child home safety products. Each patented product offers features not found on products from the commodity suppliers of safety products intended to protect children. In 2000 KidCo's Toilet Lock won the JPMA Show Stopper award, as one of the best new products for that year. And again in 2004 another new home safety device, the Door Lever Lock, won the JPMA Innovation award. Manufactured on three continents, home safety items are delivered to KidCo's distribution center to supply the professional "Baby Proofer" market and packaged for the retail market.
In 2001, KidCo began manufacturing the Food Mill. A portable, non-electric food processor, the Food Mill has exploded into the infant feeding market, making it easy and convenient for moms to prepare fresh, home-made baby food anywhere. And in 2005, KidCo expanded this single item line into a full line of natural feeding products. BabySteps™ was introduced to help parents feed their infants fresh, healthy, homemade baby food.
KidCo's line of travel products includes the very popular PeaPod, an indoor/outdoor travel bed with inflatable air mattress; convenient BabySteps feeding accessories, great for on-the-go meals; and the Gateway To Go travel gate, perfect for temporary situations.
In 2007, KidCo's product line expanded once again with the addition of high end, wooden Bed Rails offered in both natural (ready to finish) or white. The bed rails are currently available in two models: Convertible Crib(for transitioning toddlers to a big kid bed); and Children's, designed for both platform and mattress/box spring syle beds. Its a perfect expansion; bringing KidCo's safety expertise from a time when children are awake, to a time when they sleep.
In order to keep up with it's tremendous potential, KidCo's office and warehouse expanded a few times from 4,000 sq. ft. to a new 60,000 sq. ft. facility specifically designed for the needs of the growing business. The new suburban Chicago location has state of the art distribution and administration systems and KidCo personnel still personally ensure the highest level of customer service to both dealers and end consumers."
Mommy Thinks: I have used everything in the kit even though Emma still isn't eating solids because I was super excited! Riley loves applesauce so I figured he would still love baby food and of course he did! We made peach and apple puree and carrot and peas puree (and I added some chicken! Gross! but he loved it!).
I used both the Electric food mill and the travel food mill, both of which are super easy. You just have to make sure with the travel food mill that what ever you are using in there is cooked or steamed or else you will have a hard time grinding it in there. I actually liked the electric food mill better than my magic bullet! Sometimes when I use the Magic bullet I have to us too much liquid to actually get it pureed. With the Electric Food Mill I was able to have the food I made to be pureed but not watery and there weren't even big chunks that I had to scoop out after it was made.
I can't wait to use this all the time when Emma starts eating solids
but for now I am using it for smoothies! :) It is also small so it doesn't take up a lot of room in my tiny kitchen which I love! Oh! And I also forgot to mention my favorite part! The freezer trays shape each cube of food the same as the feeding tray so you can just scoop a cube out and put it in the feeding tray for easy feeding later! And the little roller looking part holds a spoon for feeding on the go! So nice and easy!
The
Frozen Treat Tray
is super convenient! No more spending lots of money on artificial flavored Popsicles. I used organic fruits to make frozen treats for Riley and he LOVED them (and so did me and Kyle!) They remind me of the Tupperware ones my mom had when we were growing up.
They great part about the products mentioned above is that they are all BPA/PHTHALATE FREE! I know myself, and a lot of other parents, look for this when purchasing a product so you can know that you are using a safe product!
I would definitely recommend The Complete Natural Feeding Kit and
Frozen Treat Tray
to every other parent. I think its a great option if you are looking to make healthy food for your baby (and a great baby shower gift!)!
HOW TO WIN:
Please make sure you leave your email address or I won't be able to contact you. If it is linked on your blog profile please double check to make sure that it is not private. I do check to make sure that every task is completed so please make sure you remember to do what you posted! And please remember that there is only ONE mandatory entry. The other ones are just for fun and to give you a better shot at winning!
Mandatory Entry:
This entry must be completed or all of your other ones will be deleted!
You MUST be a follower via Google Friend Connect AND leave a comment letting me know another product not mentioned above that you would like to try or have already tried!
1.
"Like" Kidco on Facebook AND leave a comment there saying that Kim @ Chubby Cheeks Thinks sent you!
3. Follow me on Twitter & tweet about this giveaway leaving the link in a comment (you can tweet once a day and grab an extra entry!)

"@chubbycheeks143 is giving away a Kidco Complete Natural Feeding Kit and Frozen Treat Tray! I want Fresh Baby Food! http://tiny.cc/4s63k"


4. Subscribe to my blog via email
5. Blog about this giveaway and leave a link to it
6. Grab my button for your blog and leave a link where it can be found (left side of this page)
7. Enter this giveaway in a Linky and leave the link in a comment here (5 Entries for each Linky entered! NO LIMIT!)
8. Enter in any of my other giveaways and leave a comment here (please leave a comment for each giveaway you entered) ONLY CURRENT GIVEAWAYS COUNT!
Don't want to wait for the giveaway to end? You can purchase Kidco products from your local retailers and online by using their "Where To Buy" Store locator!
Open to the US only!

This giveaway will end on June 1, 2010 at 11:59 pm EST. Random.org will select the winner. I will contact you by email (please post with comments if it is not on your profile). You will have 48 hours to respond before a new winner is picked.Good luck!
Disclosure

: I received the products mentioned above, thanks to Kidco, for this review. No monetary compensation was received by me. This is my completely honest opinion above and may differ from yours.