I recently had the opportunity to review a shirt of my choice from Crazy Dog T-Shirts! Kyle is always saying he doesn't have any shirts, so I immediately thought of him! It took me forever to look through all of the choices because there are so many! I wound up getting the Guinness T-Shirt for him and boy was it it a hard decision!
The Product: Crazy Dog T-Shirts carries a large selection of shirts for men, women, kids, and even dogs! You can find pretty much anything you are looking for! There are 80's Tees, cartoon tees, funny tees, vulgar tees....You have to check it out for yourself! I was amazed that I could find almost anything I could think of!
The Price: Prices Vary
The Company: "We're CrazyDog T-Shirts and we made it here by accident. A beautiful accident to be sure, and one that has provided us years of entertainment, but still, an accident is an accident whether its spilling your milk or having a surprise kid.

7 years ago, CrazyDog Owner and CSO (Cheif Snacking Officer), Bill, started CrazyDog as an eCommerce project in the dark dormroom hallways of Ithaca College. Forgetting to take down the website, orders kept coming in, and Bill kept filling them, working out of his moms basement for a year or 2 before she stopped making him Meatloaf and told him he better start leasing the space or she'd stop making his bed and folding his laundry. Not long after that we started leasing space in the artsy Village Gate in our hometown of Rochester, NY; home of Genessee Beer, Garbage Plates, and a really nice water reservoir. Several years later our space is 3500 square feet of pure awesomeness; and we run the joint will a staff of 6 who love every minute of it.

Wondering what happened to Bill's mean mom who stopped making meatloaf? She still works here Part-Time...packing shirts and doing Bill's Laundry. In all seriousness though, we wouldn't be here without some great customers. We have tons of original designs, and several that come from our partners such as David & Goliath and Junk Food Tees. We are the go to shop for funny tees, clever shirts and hilarious Couture. We wear the shirts we sell, and we think that stands for something nowadays. Real people read and answer your emails, not robots or tiny underpaid children. We think bacon is the bomb, we still say "The Bomb", and we love naps. We work hard but have fun doing it. We are everything you think a company should be, and we stand by our promise to give you the quality shirts you deserve.

If you are unhappy with your purchase, send it on back and pick a new one! So give us a call, join the party on Facebook, Tweet us on Twitter, read the blog or peruse the site and have a giggle at some of the tees. Questions? Ask. Have a happy story to share? Email us, we love to hear it! Complaints? Speak loudly into our garbage can. We're looking forward to having you as a customer and joining the fam. Cheers to happy accidents!"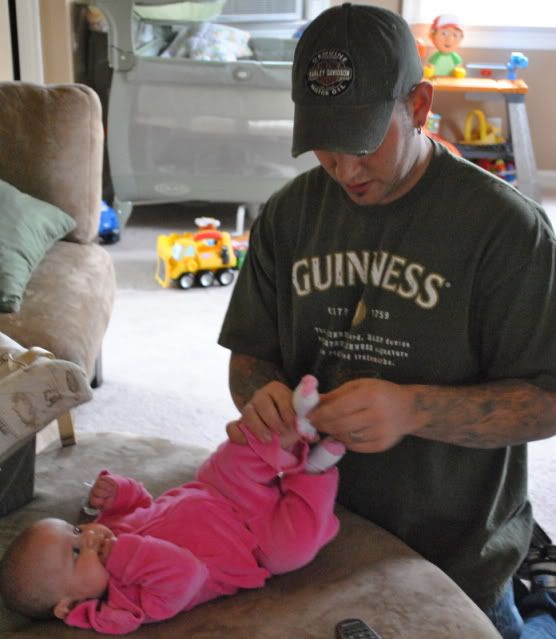 Daddy Thinks:
Kyle loves his new shirt, which kind of surprised me because he is always so picky when it comes to shirts. He said the fit was great and it was super soft! I love the quality of the shirt. It holds up to washing and the craftmanship is great!
The Giveaway: Now for the giveaway!!! Crazy Dog T-shirts has offered one lucky Chubby Cheeks Reader a free shirt of their choice and 10% off of any other regular priced items!
HOW TO WIN:
Please make sure you leave your email address or I won't be able to contact you. If it is linked on your blog profile please double check to make sure that it is not private. I do check to make sure that every task is completed so please make sure you remember to do what you posted! And please remember that there is only ONE mandatory entry. The other ones are just for fun and to give you a better shot at winning!
Mandatory Entry:
This entry must be completed or all of your other ones will be deleted!
1. Follow Chubby Cheeks via Google Connect over there on the right sidebar
3. Follow me on Twitter & tweet about this giveaway leaving the link in a comment (you can tweet once a day and grab an extra entry!)

"@chubbycheeks143 is giving away a Crazy Dog T-shirt! I want to win! http://tiny.cc/c0myv"

4. Blog about this giveaway and leave a link to it
5. Enter this giveaway in a Linky and leave the link in a comment here(5 Entries for each Linky entered)
6. Subscribe to Chubby Cheeks via email
Don't want to wait for the giveaway to end? You can get your Crazy Dog T-shirt on their website! Don't forget to check out the sale section!!!
Open to the US only!

This giveaway will end on May 26, 2010 at 11:59 pm EST. Random.org will select the winner. I will contact you by email (please post with comments if it is not on your profile). You will have 48 hours to respond before a new winner is picked.Good luck!
Disclosure

: I received the product mentioned above to review free of charge (Thanks to Crazy Dog T-Shirts ). No monetary compensation was received by me. This is my completely honest opinion above and may differ from yours.