I recently won a fantastic giveaway over on Thinking Outside The Box for a Memory Box and a Binkie Holder! We received the gifts and they are beautifully made! Bree of Thinking Outside The Box was also nice enough to send 2 extra binkie holders for me to giveaway! Yay!

A Little about Bree: I am a SAHM who has 2 adorable, amazing children. I have discovered, that even with 2 kids, staying busy is something that seems to be a must for me! I am one of those people that if I can't find it in a store (or it's over priced), I take on the craft store to try and figure it out myself. Two of those projects have 'evolved' into making memory boxes and pacifier keepers and blogging about my babies. I really enjoy the blogging avenue of my life- it keeps me thinking about things besides poop and play dooh.

Pacifier keeper story: When my son was born he was in the NICU for a short time. There they liberally used the pacifiers and I let them. Well, I had 2 sent home with me and couldn't find more in the stores, so I made a 'keeper' to make sure we never lost them (which we never did!). Since, I have had my niece as my tester and my son to help me tweak these to be safe items, however fashionable! I also have located the same pacifiers and also sell those too!

Memory box story: When my daughter was born, my aunt sent a very cute hat box and inside a personal note stating this box could be a place to store love notes. Well, I filled it up rather quickly with items from her 1st year. When my second came along, I thought he should have a box also and wanted it to match his room(Really, who was going to send a hat box to my son? So, I made one.) I bought 2 paper mache boxes, painted them with matching paint and added a couple of things to coordinate with the kids' room, each child receiving a matching box. I loved it and - it has grown from there. I have made them for grandparents and friends for a variety of reasons and even have both the pacifier keepers and boxes in a unique gift shop in West Jefferson, OH (The Abbey Gift Shop).

On a personal note- I do the best I can to love God, love my family and love what I am doing. I try and get things right the first time, learn from my mistakes and overall just be proud of my efforts in all of those categories. My 2 tots keep me busy, but they are so amazing and have changed my life for the better! When TV is rough, kids are in bed and my mind isn't settling down- off I go onto a new project!
Mommy Thinks: Emma just recently started using binkies again so we have been using our binkie holder every single day and I love it! It is absolutely adorable! We get so many compliments everywhere we go! And the memory box is just breathtaking! It is such a great idea to store all of Riley's keepsakes in. It also contains an envelope attached to the inside of the lid where you can write a letter and stick it inside for your child to read when they are older! How adorable is that! I also love that no 2 boxes are alike so ours can never be duplicated!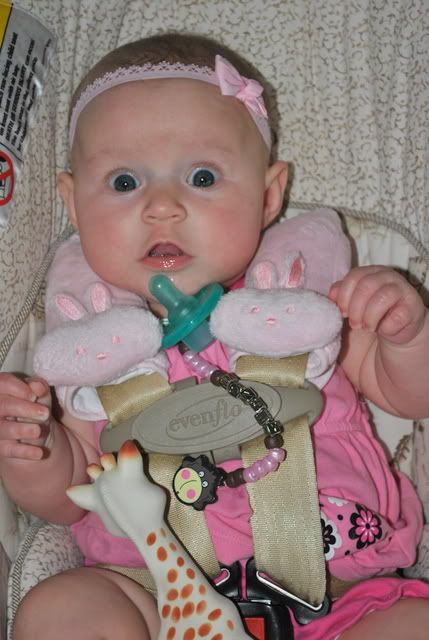 The Giveaway: Now for the giveaway!!! Bree has sent me these 2 binkie holders (ready for gifting!) to giveaway! So that means there will be 2 lucky Chubby Cheek Winners!
HOW TO WIN:
Please make sure you leave your email address or I won't be able to contact you. If it is linked on your blog profile please double check to make sure that it is not private. I do check to make sure that every task is completed so please make sure you remember to do what you posted! And please remember that there is only ONE mandatory entry. The other ones are just for fun and to give you a better shot at winning!
Mandatory Entry:
This entry must be completed or all of your other ones will be deleted!
Leave a comment letting me know which binkie holder you will pick if you win (boy/girl/either)
1. Follow Chubby Cheeks via Google Connect over there on the right sidebar
3. Follow me on Twitter & tweet about this giveaway leaving the link in a comment (you can tweet once a day and grab an extra entry!)

" RT @chubbycheeks143 Win a binkie holder from Binkies and Boxes by Bree #giveaway Ends 6/8 http://tiny.cc/480ce "

7. Enter any of my other giveaways (1 entry for each entered)
9. Enter this giveaway in a Linky and leave the link in a comment here(10 Entries)
Don't want to wait for the giveaway to end? You can purchase so many cute items for your little one over at Binkies & Boxes by Bree.
Open to the US only!

This giveaway will end on June8, 2010 at 11:59 pm EST. Random.org will select the winner. I will contact you by email (please post with comments if it is not on your profile). You will have 48 hours to respond before a new winner is picked.Good luck!
Disclosure

: I received the products mentioned above through a giveaway I entered (Thanks to BreeBee). No monetary compensation was received by me. This is my completely honest opinion above and may differ from yours.