With Jilly being like our first child, her health and hygiene are as important as Riley and Emma's. With that being said over the past year her breath has gotten stinky! I have no clue what happened but I definitely don't love her kisses as much as I used to! I recently came across Teddy's Pride and decided to contact the company and they were more than happy to send us a jar of Teddy's Pride Oral Care to try out for Jilly!
The Product: "Teddy's Pride Oral Care is the first oral care probiotic specifically formulated with a blend of beneficial bacteria essential for good breath and whiter teeth. Unlike any other pet oral care products available, the ProBiora3™ probiotics included in Teddy's Pride™ Oral Care fight the bacteria that cause bad breath and also help promote whiter, cleaner teeth.
Daily use of Teddy's Pride™ Oral Care is a quick, simple and effective way to naturally promote fresher breath and whiter teeth without the hassle, stress and poor results of trying to brush your pet's teeth or investing in costly and potentially dangerous cleaning procedures requiring anesthesia at the veterinarian's office.
By simply sprinkling Teddy's Pride™ Oral Care – which has no taste and no odor - on your pet's food once each day, you can ensure that your pet will have naturally fresher breath. The probiotics in Teddy's Pride™ Oral Care naturally produce small amounts of the whitening agent hydrogen peroxide, which inhibits the growth of the plaque bacteria that are responsible for bad breath, leaving your pet's mouth fresher and cleaner.
Teddy's Pride™ Oral Care, made with the patent-pending ProBiora3™ probiotics, is the result of more than 25 years of research by Dr. Jeffery Hillman, D.M.D., Ph.D., who began studying probiotics at the Harvard-affiliated Forsyth Institute in Boston, prior to joining the staff at the University of Florida. Through his years of research, Dr. Hillman realized that good oral health depends on maintaining a healthy balance of the bacteria that live in the mouth.
With daily replenishment, the ProBiora3™ probiotics contained in Teddy's Pride™ Oral Care are specifically formulated to promote:
Fresher breath

Naturally cleaner, whiter teeth
By simply sprinkling Teddy's Pride™ Oral Care on your pet's food each day, you will gently whiten and brighten their smiles while ensuring that their breath is always kissing fresh."
The Company: "Oragenics Company History and Leadership Team
Dr. Jeffrey Hillman, Chief Scientific Officer of Oragenics, Inc., began his basic research into controlling the balance of good bacteria in dental plaque in the late 1970s at the Harvard-affiliated Forsyth Institute in Boston. He transferred his research to the University of Florida College of Dentistry in 1992. Dr. Hillman and Dr. Robert Zahradnik founded Oragenics at the end of 1996 to commercialize the fruits of more than 25 years of Dr. Hillman's research. Oragenics, Inc. is a publicly traded biotechnology company with a significant pipeline of seven proprietary product and platform technologies, all discovered by Dr. Hillman and all addressing major global healthcare needs. The Company consists of four Divisions: Consumer, which includes products for oral care, such as Teddy's Pride and EvoraPlus; Biologics, with the SMaRT Replacement Therapy that potentially could provide lifetime protection against tooth decay; Pharmaceutical, which focuses on the development of novel antibiotics for clinically important infections; and Diagnostics, with two biomarker platforms that target infectious diseases and cancer"
The Price

: $24.95 for a 60 day supply. Definitely affordable!
Mommy Thinks: Obviously I'm willing to try anything to make Jilly's breath better! Who doesn't love doggy kisses? We have been using Teddy's Pride for a little over 3 weeks now and I have noticed a slight change in her breath. It isn't drastic but for some animals it takes a little longer. But a little bit is good for me because that obviously means it's working! I have also noticed a change in the color of her teeth! I wish I took a before and after picture. I definitely think that this is a one of a kind product. I have tried numerous tooth pastes, treats, gum wipes and they all worked immediately but nothing was long term. With Teddy's Pride I feel like, even though the process is slower, in the end it is more of a solution as opposed to a temporary fix!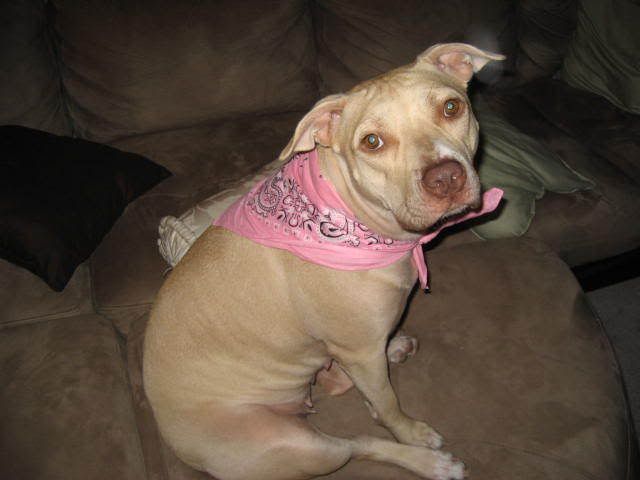 Jilly Thinks: At first Jilly was not having any of this strange white powder on her food! I started to get worried but then went back to the website and it had stated that, while there is no color, odor, or taste, there is still the visual aspect which can sometimes frighten the animal because they are not used to it. So I just make sure when I put Teddy's Pride on her food I shake it in a little bit so she doesn't notice it! I think that Jilly will be happy when she can finally give kisses without being rejected. I mean, come on now! What girl likes rejected!
The Giveaway: Now for the giveaway!!! Teddy's Pride has offered one lucky Chubby Cheeks reader one full size jar of Teddy's Pride Oral Care for their furry family friend!
Please make sure you leave your email address or I won't be able to contact you. If it is linked on your blog profile please double check to make sure that it is not private. I do check to make sure that every task is completed so please make sure you remember to do what you posted! And please remember that there is only ONE mandatory entry. The other ones are just for fun and to give you a better shot at winning!
This entry must be completed or all of your other ones will be deleted!
Head over to Teddy's Pride and leave a comment with a fact about Oral Care that has not been mentioned in this post
1. Follow Chubby Cheeks via Google Connect over there on the right sidebar
5.Follow me on Twitter & tweet about this giveaway leaving the link in a comment (you can tweet once a day and grab an extra entry!)

"@chubbycheeks143 is giving away Teddy's Pride OralCare! I want to win! http://tiny.cc/89e99"
6. Subscribe to my blog via email
7. Blog about this giveaway and leave a link to it
8. Grab my button for your blog and leave a link where it can be found (left side of this page)
9. Enter in any of my other giveaways and leave a comment here (please leave a comment for each giveaway you entered)
Don't want to wait for the giveaway to end? You can head on over to Teddy's Pride
and purchase a 60 day supply for $24.95!
Open to the US AND Canada

This giveaway will end on May 12, 2010 at 11:59 pm EST. Random.org will select the winner. I will contact you by email (please post with comments if it is not on your profile). You will have 48 hours to respond before a new winner is picked.Good luck!
Disclosure

: I received a free jar of Oral Care, thanks to Teddy's Pride, for this review. No monetary compensation was received by me. This is my completely honest opinion above and may differ from yours.